I am an artist drawn to social movement. For three years my focus has been set on the City of Milwaukee - a place with all sorts of social rhythms, patterns, and movements. Milwaukee is where I work and play, and explore and learn. I once lived on Humboldt Blvd and it was there that I became intimately familiar with the unfolding drama of winter-time parking problems. I worked at a gas station that was technically Milwaukee, Whitefish Bay, and Shorewood, all at the same time - talk about complexity. I worked there for years and received a minimum wage education that could easily take down my BFA experience in only a few rounds. I learned about gas prices and the recession. I was robbed at gun point and only a day later felt the extreme of human generosity. Milwaukee captured this artist's heart, and it has been the main focus of my artist residency at Cardinal Stritch University since August of 2016.
In so many ways we are workers first. This is a visual representation of how work impacts the movements in my life.
When my wife (Kathryn) and I were hired in our fist teaching jobs, however, we found ourselves looking for a center point between Milwaukee and Washington County. Our schools were in different worlds, and 45 minutes was about all we were willing to commute. We searched for a compromise, but were also looking for a community with its own visible culture. We found our home in Cedarburg. We found a beat up little foreclosure, a HUD house that gave us an opportunity to live in a community we would otherwise never be able to afford. We have spent years fixing up our home, and occasionally exploring our community, but for the most part commuting out of our satellite city in opposite directions, to go to and from work.
One of the most interesting community happenings I have witnessed in the five years I have lived in Cedarburg has been the growth of a community organization called Bridge the Divide. According to the Cedarburg Public Library website, BTD "is a forum for discussion and action around racial reconciliation. The group seeks to identify instances of inequality, foster empathy, and educate others to recognize their part in the problems and solutions in Ozaukee County."
In an attempt to capture some community attention, BTD's first meeting at the library featured the founder of ZIP MKE, Dominic Inouye. Dominic shared his "powerful photography exhibit, and how he seeks to expand social perspectives in Milwaukee's 28 zip codes."
I couldn't believe it - Cedarburg, my sleepy little "Door County of southeastern Wisconsin" was actively embracing the diversity of Milwaukee. Someone cared enough to bring the wide range of faces and places from Milwaukee into our place. It was by coincidence that I heard about the meeting, as I had partnered with Dominic in the past. He asked for some help in setting up, I agreed, and ended up finding the change agents in my home community.
The ZIP MKE meeting happened in February of 2018. After Dominic shared his ideas with the small-ish gathering, the night was turned over to Erica Turner. Erica explained the basics of what Bridge the Divide was all about, and launched into a discussion on what bias is and how to identify it within ourselves. This was new! It was complex, and difficult, and a breath of fresh air.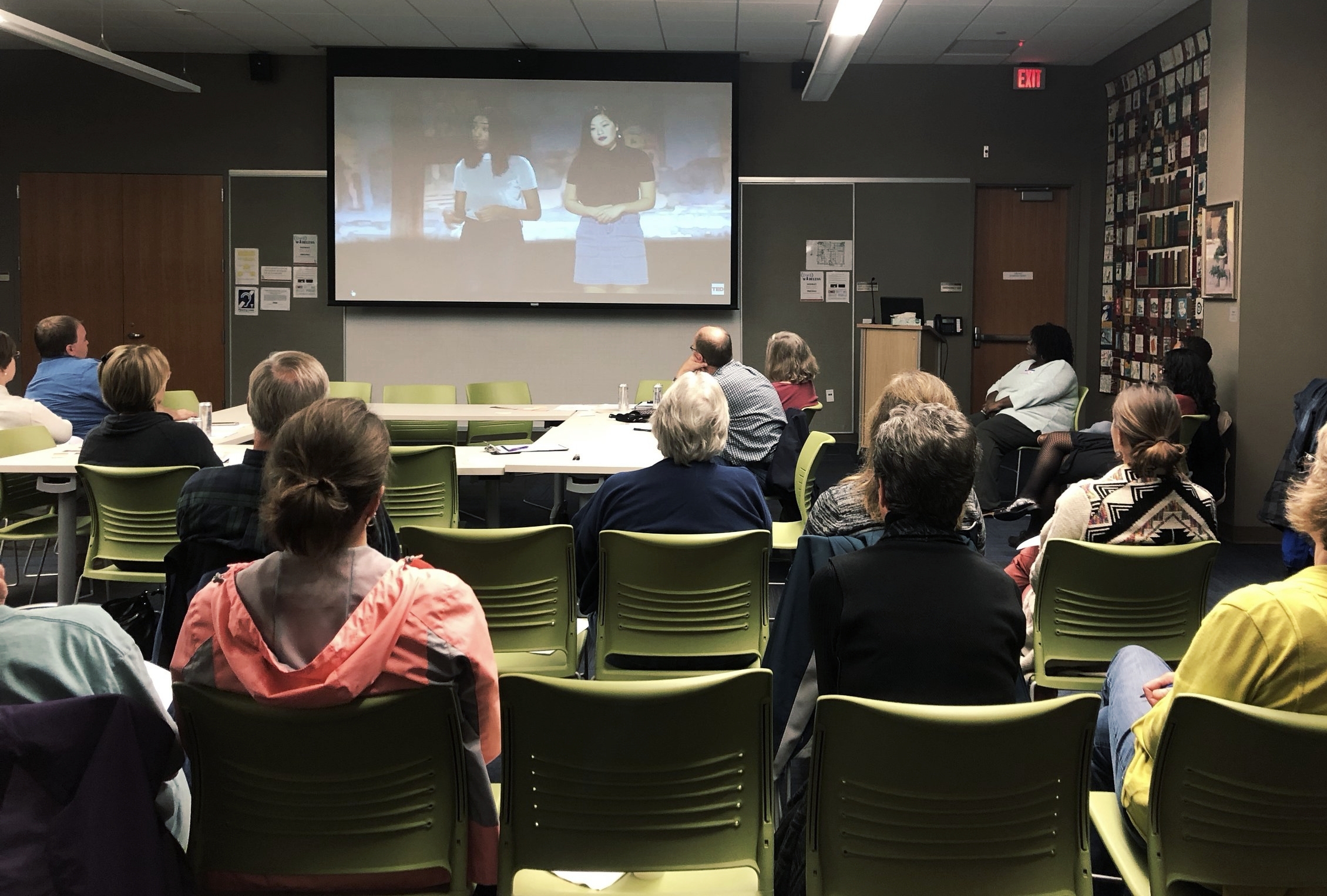 Bridge the Divide presents a TED Talk on Racial Literacy back in October.
Kathryn and I have been to almost all of the Bridge the Divide meetings, and each one leaves us thinking and talking, and in many cases, participating. The group has grown from around a dozen people to anywhere from 40 to 60 community members per meeting. Speakers, panel discussions, movie outings, and even social gatherings are organized out of Bridge the Divide. It will undoubtedly be an emphasis point for the Create Space Cedarburg project. I hope the art can serve the mission of the group.